About Us
Paving the Red Road to Wellness
Nelson House Medicine Lodge offers an easy and rewarding means to achieve sober, healthy lifestyles with control over addictions. Our organization offers cultural practices and processes that span all seasons of the year.
The Medicine Lodge was established in August 1989 to meet a growing need for a counselling and residential addictions treatment services for Indigenous Peoples of northern Manitoba. To date the NHML remains the only NNADAP alcohol and drug treatment facility servicing adult Indigenous Peoples in Manitoba's north.
The Medicine Lodge sincerely appreciates the continued support from clients and our partners in the public and private sectors. Drop in and see for yourself some of the rewarding experiences the Medicine Lodge offers.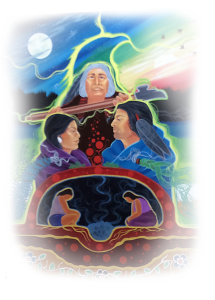 Mission
Red Road service excellence in alcohol and drug recovery.
Vision
The Medicine Lodge's vision is "Paving the Red Road to Wellness.
This is a lifelong journey of discovery of cultural identity and recovery.
Travelling the Red Road is considered by aboriginal peoples to be the unique path that indigenous people take though life. For some, it's considered a rough and difficult road, fraught with personal challenges and sometimes failures that others don't encounter. Our vision, "Paving the Red Road", epitomizes our efforts to make life's journey on the Red Road smoother and easier for our clients through the professional services we provide.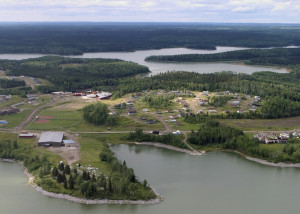 Located in Northern Manitoba
The Nelson House Medicine Lodge is located in Nelson House, Manitoba, accessible by all-weather roads about 800 kilometres north of Winnipeg and 80 kilometres west of Thompson. Situated on our 4,600 acre peninsula in Footprint Lake, Nelson House is the home community to 2,600 of the 4,600 members of Nisichawayasihk Cree Nation.
Nelson House is a progressive community and offers a wide range of community, public and business services to meet the needs of the local population. These include comprehensive educational services (preschool, elementary, high school and the Atoskiwin Training and Employment Centre of Excellence).