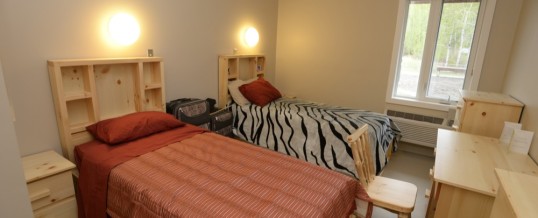 October 2015 – The Nelson Medicine Lodge announced the facility is now offering partner organizations reservable-access to resident rooms and beds. The exclusive annual reservation for men and/or women's resident room(s) also provides access to programs for drug and alcohol addiction treatment services. The contract beds are available to organizations in the legal and judicial sector, social services, health, treatment, or counselling industry. At this time, two resident rooms/beds are available for purchase on an annual term.
Yearly contracts are available for organizations wishing to reserve rooms and services for up to six individual residents per year (three women – three men). The facility has alternating men's and women's, eight-week drug and alcohol addiction treatment and prevention programs throughout the year.
Organizations interested in obtaining the contract beds are asked to contact Executive Director, Ed Azure.
Details and benefits of the contract beds include:
Only $180 per day for each room
Guaranteed spot – intake for your organization includes reserved bed/room, programs, amenities and meals
No waiting lists
Preferential program slots and program selection throughout the year
Faster streamlined intake and resident-processing times
Direct access to patient progress and reports
Competitive costs – No fluctuation or changes in fees.
Work within your set annual budget
Save time by not having to search for other drug and alcohol treatment agencies or services
Trust in quality programs, services and consistent results
Excellent feedback and two-way communication
Flexibility – refer whomever and whenever you need. Select the time, schedule and programs that work best for your organization
What's Required to Get a Contract Bed?
Past working relationship or referrals with NHML

Payment/fee schedule agreement and contract

For each individual enrolled in the program, your organization will provide: client/resident intake information (medical forms, referral forms, etc.)
Share